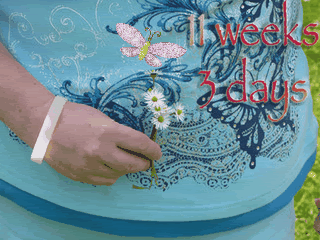 Today I wore the white bracelet above to remind myself of the wisdom of God and His plan for all of our lives.  It simply reads "I will follow God's plans".  Sometimes God's plans are not exactly what we would have planed for our lives.  For the last two days I have been contemplating why God would allow me to even know about Beautiful Miracle's (Baby B) existence.  I though of how much easier it would have been just to think our little miracle was the only one who struggled and fought for their life in these weeks.
There was a reason God wanted us to know.  A few of our friend have told us either that Beautiful Miracle wasn't meant to make it, or that maybe there was something wrong.  But a couple of my friends said something that made more sense to me.  That Beautiful Miracle laid down her precious little life for the life of Little Miracle.  That they loved their sibling so much and knew they both could not grow strong and healthy.
This brings me to tears even typing about it.  But they are tears of joy as much as they are tears of sorrow.  Joy that our Beautiful Miracle was so selfless and so strong as to give up her life so Little Miracle could live.  Sorrow, that we could not have known and celebrated Beautiful Miracles life more.  
In the Bible it states that there is no greater love then to lay your life down for another.  So Beautiful Miracle gave all she could and loved more then we could imagine!



John 15:12-13 (New International Version)

12My command is this: Love each other as I have loved you. 13Greater love has no one than this, that he lay down his life for his friends.
How amazing is this that someone so small could do something so big for the ones she loves!  She let Little Miracle continue to grow strong and healthy and didn't even draw attention to herself.  Was a beautiful act of love, grace, and mercy.  We could all learn from such as this!

Dear Lord, we thank you for the life and sacrifice of Beautiful Miracle.  We pray that you are holding her safe and sound right now.  Lord we also thank you for our Little Miracle.  We ask that you help our little miracle to continue to grow strong and healthy and to be born and come home with us.  Lord you have blessed us greatly!  Thank you for displaying true and real love through the example of Beautiful Miracle!  In Jesus Name, Amen!