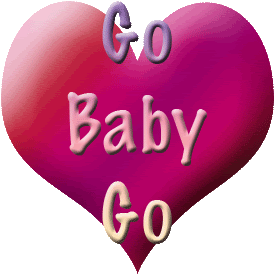 Today for the first time I actually heard the swoshing sound of the baby's heart beat!  Before when I got the heart beat on the monitor, I did not hear the sound but only got the digital read out.  This time it was the total opposite.  I heard the sound but did not get the digital read out of the heart rate... but I tell you what.... hearing it's little heart beating is even better then seeing a number on the screen!  
It was amazing!  Since it is a holiday Chris was there with me this morning when I checked for it.  He actually had me stopping at the spot because he thought he heard something.  We waited for a tiny bit and there it was "swish swosh, swish swosh"  it's the most wonderful sound in the world to me right now!  It means my baby is still there and still growing!  Praise God!
Thank you God for the beautiful sounds you shared with me this morning!  I know that it was because of you that I was able to hear the heart beat!  What a blessing!  God you are the great creator... you give everything life!  Thank you for breathing life into my baby and helping it to grow healthy and happy in my womb!  God forgive me for being scared yesterday.  Give me the strength to keep pressing on and the faith to hold on to the hope for this little miracle!  In Jesus name, Amen!