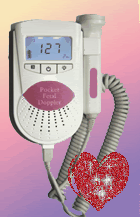 Our Fetal Doppler machine arrived in the mail on Monday afternoon.  It's pink!  :)  I knew that it may not show me anything yet on Monday but I really really wanted to try it out!  So what do I do?  Of course I put it together, put the batteries in and the ultrasound gel on and started it up.  
From when I was in the hospital with baby Nels I pretty much knew how to find the baby's heart beat.  I also read in the instructions that you may not actually hear it until 12 weeks when it is loud enough for the doppler to hear.  
When I got the little heart flashing I knew I was close to a heart beat... would it be mine or the baby's?  First one... was the baby's.... it stayed in the good range from 135 to 160, but I had to move the doppler around because the baby had plenty of swimming room and swimming was definitely taking place.  The cool think was... even though I could not hear the heart beat... I heard the kicking and swimming movement!  How cool is that!
Shortly after losing it again after more movement I found a heart rate again.  This time it was much lower.  Instead of freaking out... which I would have done if I had not been monitored for 35 days with Nels.... I simply figure out that I had found my heart beat.  Which was also in the correct range!
Thank You Lord!  What a wonderful invention that you taught man how to make!
Then Tuesday I decided to try again.  This time every time I found a heart rate it was mine.  I tried not to panic because I know that it is very difficult even for some doctors to find it at this point but I did get a little bummed after 10 minutes of trying with no good results.
My husband came in the room and asked "Why the pouty face?"  I told him I couldn't find the heart rate and he jumped in and said "Let me help you!"  Normally I would have just said I was ok and that we didn't need to try again but with all that has gone on with this little miracle I just wanted to make sure that everything was still alright! 
So I layed down... 1 minute later... we saw a 135 heart rate... then 138 and 150.  Woooo hooo!  Chris was able to find the baby!  It was completely on the opposite side of my uterus!
Lord God, I thank you for the invention of the doppler so I can see my baby's heart rate.  Lord I ask that you continue to give our baby a great heart rate and that you make this little miracle grow up strong and healthy and happy!  Lord I thank you for each day with my little miracle!  Lord lead and guide me and lead and guide the doctors when they see me.  Thank you Lord for the blessing of my husband and for his patience and understanding!  Lord keep him safe and lead and guide him as well!  In thy name I pray!  Amen!!!!