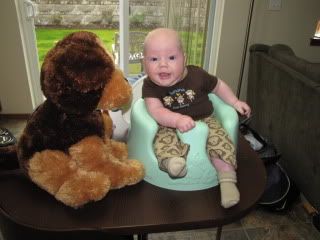 Ok, so I am a bit late on this posting but Asher and I were quite busy at 5 months! At 5 months Asher weighed 17 lbs 4 ounces and was 26.5 inches long! He is sure growing fast now!
Some note-ables in Asher's life as he reached 5 months were that he was eating his cereal well and enjoying going out to meet others! Asher went to church on resurrection Sunday with us and grandma and grandpa. Then he got his picture taken with Tow Mater. That was a big thing for his daddy who loves the cars movie!
Asher is babbling a lot more now and trying to say words. I and you are still his favorite words. Every once and awhile he repeats something different though... like one day his uncle Eric came to visit and I kept saying uncle Eric to him. All the sudden he blurts out "Errrrraaac". That was cute.
Asher turned 5 months during our trip to Florida to visit Chris's grandma. Unfortunately the pictures we took on that day were on my big camera which got stolen in the Orlando airport on the way home. Such a bummer. There were some cute pictures of Chris's grandma holding Asher.
Asher started being able to reach the floor with his bouncy toy by 5 months. That is great. He really likes standing in it. Then he began to scoot backwards in his little walker car.
As far as food I will post that in a separate post. He has started eating veggies and loves them!
It is only 2 days from his 6 month day so I am going to cut this one short because I need to post a couple more posts before the 6 month one. :)