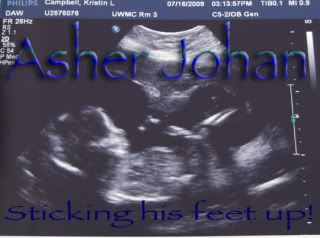 Last night after we got home Chris and I poured over the name book to pick a name for our little miracle.  We only had a girl name picked out.  It was Cora Joy which meant gift of joy.  We wanted something that would mean something similar to this for our little boy.
At first we were looking in the initial A.B.C., because we thought that would be kind of cool.  But we couldn't find anything that meant gift.  We found the first name first.
Asher is his first name.  Asher means filled with happiness.  We don't want him to live with the sadness I have been through and with the stress that I have gone through during the pregnancy.  It is also in honor of my mom in a way... because her middle name is Joy... which is where we got that middle name for the girl name.
The second name took a lot of time to figure out.  We didn't want a name that would be too common and we didn't want it to be a name that he would switch to later on.  It was a challenge.  We found several names that meant gift from God... but none seemed to fit.
Finally we decided on the second name Johan.  Johan means God is gracious.  It is only by God's grace that this little one would be allowed to be in our life.  We pray that God will continue to be gracious unto him and that he will not have to go through the struggles that his big brother Nels went through.  Johan is also in a way a family name.  You see when my dad's dad came over from Sweden his last name was Johanson (not sure it is being spelled right).... which he changed to Johnson to make it more Americanized.  My dad said it was spelled with a J and not a Y so we are going with that.
Asher Johan Campbell, your mommy and dad love you.  We are praying for you.  Please don't leave us like your big brother.  We are waiting to meet you.  Please grow safely.