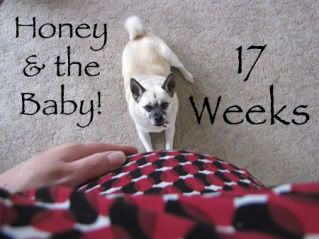 Today the baby is 17 weeks.  I listened to our little miracles heart beat this morning and it was between 153 and 157.  Still a fast little baby!  :)  It has been a while since I have written last.  We haven't had any doctors appointments or anything to report on.  Just have been in a bit of a waiting period of time. 
Last week we picked out the house we are going to buy.  It is being built and will be done on the seventh of August.  We will be moving out of our house in a week.  That is not much time left here.  We have been busy packing and getting stuff ready and got the Pod delivered yesterday.  Since I can't lift heavy stuff I have only been able to pack and tape boxes.  Chris has been moving the boxes.
The baby got excited with all the activity yesterday and actually kicked me where I could feel it.  Since my placenta is on top I haven't felt much movement except when I am using my doppler, because the baby pushes against that some times.
When I heard the heart beat this morning it wasn't just the quite swish swosh noises.  It was the actual heart beating so the baby must have had it heart close to my tummy.    It was a beautiful noise to hear but reminded me of the monitoring that baby Nels got in the hospital.  
Baby Nels would have been 8 months old on last Sunday.  We went and took him some left over 4th of July prizes that we had for the games for all the kids.  We stuck two red, white and blue pinwheels in the ground for him.  It is hard to go and see his spot... even though I know in my heart he is not there and he is in heaven.  I had a wee bit of a breakdown the night before and then just as we left because the wind made the pinwheels spin for him.
Anyways, with all the stress going on our little miracle seems to be hanging in there really well.  Our next appointment is on the 16th of July.  There will be another full body and organ scan of the baby as well as a doctors appointment later that day.  I am still praying that this little one is a happy healthy girl.  I don't want this baby ever to have to go through what Nels did.