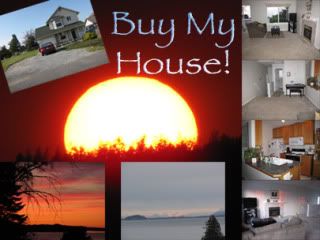 Today we had our first real estate agent come to look at our house to see about selling it.  We decided after baby Nels died to put our house on the market.  Chris decided it would be  best to wait until after May.  We have worked really hard trying to empty out our house as much as possible.  It has been hard because of the pregnancy and me not being able to do much... but thankfully we have had a lot of help from my mom and dad.
Today's visit was a little disappointing.  The real estate agent wasn't sure that we would even get the tax accessed price for our house.  She said it was nice and looked bigger then it's size and that it was clean.  :)  that was a happy thing.  But the fact that we may not even get the tax accessed amount is kind of scary.  We need to get at least that much in order to be able to buy a house in the area we want to move to. 
Why do we want to move?  Well we want to be closer to Chris's work and closer to friend and family.  Why do we need to move?  Because of the baby.  We really need to be closer then an hour and a half away from doctors.  
I am excited about the chance to sell our house and move but I am praying that it will be a quick process and that it will not only sell quickly but sell for enough so that we will be able to buy another house where we want to.
Honey, our dog has been very concerned about all the packing, fixing and moving around of stuff.  Today her bed moved to the garage temporarily... not that she sleeps on it... mostly she just stores her toys on it.  She was pretty upset when the agent came. She really didn't want anyone walking around her house.  
Tomorrow I think I will put her in the kennel when the other agent comes.  She definitely will not be happy about that but she will be ok. :)  
The stress of all of this is concerning to me.  I don't want this to effect the baby at all.  This little miracle is so important to us and I don't want anything to happen to it.  I pray that God will put a hedge of protection around this special little one all through out this whole process.  
Lord God, you know why we want to sell our house.  Lord I ask that you help us to pick the best agent for us.  Lord help us to get someone who will work hard and quickly to sell our home.  Lord God, put a hedge of protection around our precious little one and keep it safe.  Lord God please bring the people to buy our house and close the house deal very quickly.  Lord let these people buy the house as soon as it is listed and let it close the quickest way possible.  Then Lord help us to find the best house for us and our precious little one.  Help us to be able to afford a house in a nice area that has great walking and parks.  Thank you Lord for all you are doing in our lives.  Lord we give this over to you as we have done what we can do now.  Please help us.  In Jesus name, Amen!