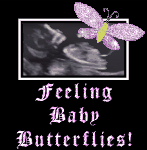 This morning as I did my doppler to listen for the baby's heart beat I heard a lot more then what I expected.  The first thing I heard was hiccups.  So cute.  With baby Nels I didn't hear his hiccups until I was in the hospital... so I am really treasuring hearing this little one more clearly.  Hiccups are actually very good for the baby!  It shows that the baby is taking in amniotic fluid.  This makes me very happy.  I know that the lungs don't really start their major development until week 16 but this is a big part of their development.  The lungs need the amniotic fluid to help make the brachia and form the lungs between weeks 16 to 24.  With baby Nels he really didn't have that chance to form his lungs.  I am praying that this baby will be able to have the fluid to form the lungs and to help the lungs develop when they are supposed to.
The second sound I heard was kicking or hitting.  Basic movements.  They sound like bumps or thumps.  It was nice to hear!  I also heard a little bit of swish sound as well along with the bumps.
What was even more amazing then the sounds I heard to day were the feelings.  As I laid down with the doppler rolling over my tummy I actually was able to feel the baby moving a little.  It was so good to feel.  I didn't really feel Nels moving until later in pregnancy so this was a bit of a surprise, but it was another wonderful one.
I treasure these moments with the baby.  It is so wonderful, so amazing, and such a blessing.  At times I forget about these little treasured moments and turn to fear and worry about the baby.  I was writing to one of my online friends today who just passed the day when she had miscarried in her last pregnancy.  What a wonderful thing!  It brings so much relief to mom's when they pass such time frames.  I remember feeling this with Nels as soon as I got to 9 weeks!  I knew he was there to stay.  I just didn't know he would be taken away.   I think this is where my fear is coming from during this pregnancy.  I don't really have a date where I can pass and feel for sure safe this time... as baby Nels was born at 34 weeks.  I don't want to feel this way through out my pregnancy.  Instead I really really really want to celebrate the little things like I was able to today.
This baby is a fighter and has over come so much already.  I am so happy with how well it has done.  When will I feel comfortable again?  I will be going to my doctor again on Thursday.   I will be asking about when they will do the next ultrasound on the baby.  I know that I still need to be watched closer because of PUV.  I think that I should have one at least at 16 weeks.  At this time they would definitely be able to see what is going on and they probably would be able to tell the sex of the baby.  I think the only thing about that that would make be be able to relax more would be if the baby was a girl because then there would be no chance of PUV.
Lord God, I thank you for my little miracle!  I thank you for the precious moments like today where the baby hiccups and moves.  Lord I ask that you continue to breath life into my womb and continue to form this little miracle happy and healthy.  Lord keep a hedge of protection around my baby and help it to continue to grow in the way it should grow.  Lord thank you so much for my little miracle.  Please let this miracle be born and come home with us.  In Jesus name, Amen!