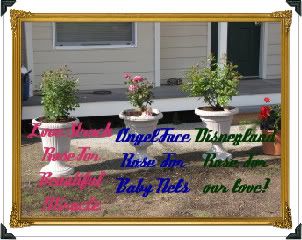 Yesterday my mom helped me plant 3 roses and put them by my porch!  Each rose I picked out for a specific reason.
The rose to the left is called a Love Struck rose. It is a yellow rose that starts out with a bit of red and orange.  I picked this one out for Baby B Beautiful Miracle to represent her ultimate sacrifice for the love of Baby A Little Miracle!  It is a two colored rose... so it can stand for both the precious little miracles!
The next rose... the one in the center... is called Angel Face.  It is a pale lavender rose with a burgundy edge.  It is one of the most beautiful smelling roses I have smelled in a long time!  I picked this one out for Baby Nels!  Because his face was the face of an Angel and he smelled so sweet!  We miss you so much Baby Nels!
The last rose I picked was the Disneyland Rose.  I picked this rose out special for Chris and I.   I picked this one because of it's name.  It is a multicolored peachy rose.  The reason I wanted the Disneyland rose was because that is where Chris and I spent our honeymoon in July of 1994.  July 2, 2009 will be our 15th wedding anniversary!  I love Chris so much!  We have been trying so long to have a family and are praying this year... that will come true!  I wanted to give Chris a special rose to remind him of the happy parts of our marriage.
Lord God, I thank you for Baby B and Baby Nels and all the other precious little ones we have lost.  I pray that you are taking good care of them!  Lord I thank you for Chris, for his love, his understanding, and for everything he has done for me to help me out during this pregnancy.  Lord bless Chris in all he does and help him to live his life strong and faithful for you!  In Jesus name, amen!