There has been much that has happened since we first found out that we were expecting our little miracle.  We have gone through a rollercoaster of emotions in the last couple weeks.  My beta #'s have been great and were doubling like they are supposed to so we figure it was a clear ride so far.  
We had a trip planned to go see my husband's grandma in Florida from the 22nd to the 26th of April.  That is why it has taken so long for me to post again.  In fact at one point I was no longer going to post... but God did another miracle.  
On Thursday night the 23rd  I ended up in the ER in St Petersburg Florida.  I was bleeding heavily and passed some clots which I though may have been the baby.  The ER doctors told me that I had miscarried.  Even though my #'s that night were at the appropriate doubling level.  They did an ultrasound but all they could see was the sac... no yoke or fetal pole.  So the tech said it could have been expelled.  I got back to my room in the hotel at close to 2 am Friday morning.  I was devastated and so was Chris.  We had so hoped our little miracle would make it.
In fact 5 minutes before I bled we had bought a little onesie that matched t-shirts we had purchased for ourselves.  It was so hard the next couple days in Florida.  With out hope and feeling so sad.  We didn't know what we could do.
The ER told me to follow up with my doctor at home... so I called the doctor's office and told them what the ER had said.  My Doctor wasn't in so they talked to the head of the department and he told them to tell me to keep my ultrasound appointment for monday to make sure everything was out.  I stopped bleeding after  I returned home from the ER so I was afraid that they would have to do a D&C.  
I am not very good at giving up hope very easily and with all the miracles God had preformed so far I was hoping beyond hope that maybe there was still a miracle for us.  I prayed before I left for the ultrasound that if God wanted us to have this baby that it would be there with it's heart beating.  I just didn't want to give up because I know that our God is a God of miracles... and I really didn't want the doctors to order something else done if there was any chance for our baby.
On Monday when I got to the ultrasound they told me that I didn't need the 32 ouces of water I had consumed since they were only going to do the vaginal ultrasound.  They told be to use the restroom and come back in.  This was the day after we flew home.  When I used the restroom 3 large clots the size of the palm of my hand came out.  I figured that this was the rest of the miscarriage. 
When I went back into the room I asked the tech if she could see that everything was out.  She said "No... I see a heartbeat."  I was in total shock and awe.  God had saved my baby even after all the things that had happened... the baby was still there and it's heart was beating.  Praise God.  But then came the question where is all this bleeding comin from?
After the ultrasound I talked with my doctors nurse.  She said I had a Subchorionic Hemorrhage of the placenta.  That threw me and scared me.  I asked if I could get an appointment with my doctor sooner.  She said no... now that it is a confirmed pregnancy I need to go to a different doctor.
They set me up with at doctor's appointment for the next day.  The doctor I saw said that all I could do is continue taking the prometrium they put me on and to rest and pray for the bleeding to stop.  I spotted most of Tuesday and Wednesday until and old looking clot that was dark and rubbery came out.  I have been praying that God will heal the Hemorrhage and keep the baby safe.
For the next two weeks until my next appointment I am laying low on bed rest , pelvic rest and praying for my little one.  My next appointment is on 5/14 for an ultrasound with the doctor in the office.
Here is our first ultrasound picture.  The arrow is pointing to where the heart is beating.  The dark spot on the side is the hemorrhage.  Please pray with me for it to go away.  It is important for the health of the baby.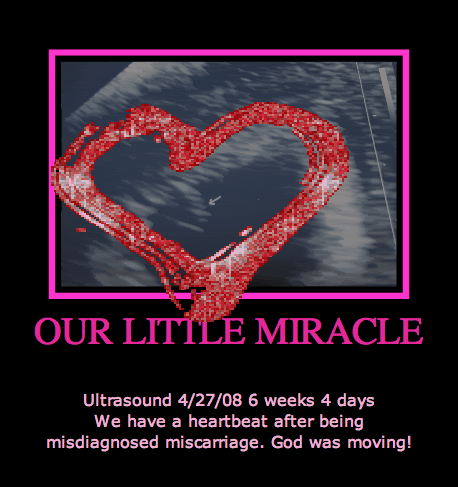 Abba, Heavenly Father, I come to you in the name of Yeshua, Jesus Christ your son, and ask for you to completely heal this hemorrhage.  As the woman with the issue of blood reached out for the hem of Jesus garment and received healing so am I today.  Heal my womb that it may carry this precious little miracle and keep it healthy.  Lord give me peace as I rest in you, and faith to stand up to this situation.  Lord I bless your name for all that you have done so far in this little miracles life.  I pray that you will strengthen and put a hedge of protection around this little miracle and keep it so safe inside.  Lord thank you for this chance to carry such a precious miracle again.  This time Lord, please let the baby be born healthy and help it to have a wonderful life in you!  In thy name I pray, Amen!