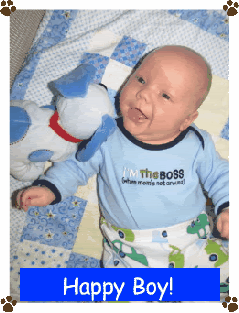 Wow 3 months already! I can't believe it has been a month since posting last! Asher was 14 lbs 2 ounces on his big 3 month day! He was close to 24 inches long... but we aren't sure on that because the measuring tape might have been a little twisted.
Asher went back to shorter hours sleeping after that last sleeping post. He had a growth spurt which had taken down the sleeping to a 4 hour and a couple two hours during the night. Then as soon as his big 3 month day hit his sleeping changed again. Now he is sleeping between 6 and 9 hours at night.
For a week he was at about 6 hours a night then the last 4 nights have been 7, 8 and 9 hours! What a blessing! Asher is so happy when he wakes up now. It is nice to see him smiling and cooing when he wakes up.
Asher's first valentines was a couple days after his 3 month day. He had lots of fun. We got him a stuffed lion and he wore an outfit that said mommy's prince on it with Kiss Me written on his feet. It was very cute!
Asher had a very busy month for his second month. He got to go to Seattle, Everett and Lynnwood a few times with mommy and daddy.
We had gotten several different types of carriers for him. He really didn't like the one Chris had picked out to carry him in. Then we went to a store in Seattle where we tried on several types. I wanted a carrier that would be easier to put on so I got a ring sling. Chris put his name on the waiting list for an ergo. But later decided against that one.
We went down to Oregon for the weekend the week before
his big day. He got to meet his great grandma Betty and got to take pictures with his dad and his family. They got a 4 generation picture of Asher, Chris, Joe and Betty. It was very nice!
That was Asher's first road trip! We Went out to lunch with Chris's family and then went shopping for carriers and walkers for Asher.
Then we went to Monika, Matt & Haley's new house to spend the night and have dinner. Asher slept 6 hours which was good for all we had done during the day.
The next day we went back to Lake Stevens for a super bowl party at my parent's house. Busy weekend for a little guy!
Asher has started to laugh and smile more too which is really nice! The colic behavior went away when we started to give him a bottle of formula at his 7pm feeding. I think he was just not getting enough from me in the evenings so he was unhappy. He actually still breast feeds at 7 before his formula but then eats between 6 and 8 ounces of formula on top of that. Hungry growing boy!
Well I better get going for now!
Dear Lord, I thank you so much for all you are doing in Asher's life. I ask that you keep doing good works in his life and bless him as he grows! Amen