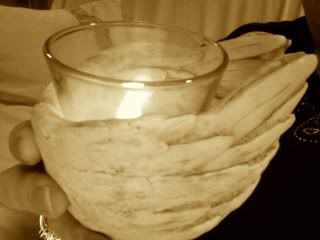 I know today is not his big one year day, but I didn't want anyone to think that his day went unnoticed. On last Thursday baby Nels would have been 1 year old. What a miracle it would have been to have him here with us... but he was in heaven instead on his big day.
Since I am still in the hospital my mom to a birthday balloon to baby Nels for me. I guess he's a big boy now so I should just call him Nels. Even now a few days later I am having trouble writing this. I miss him so much but know that he is happy and healthy where he is now.
After my mom went to see Nels she came here to the hospital to spend time with me. She brought Asher's quilt and some items that I asked Chris to have her bring... including Nels's special wing candle holder. I have a fake candle that I light up for Nels so I did that on the hour he would have been born and alive.
I didn't want to fall apart during that hour. It wouldn't have been fair to baby Nels... so instead I did my monitoring and listened to Asher's heart beating during that time. I felt numb most of the day. The night before I was a mess after watching Nels's video. It is so hard for me to watch. There are so many things I wish I could have done with and talked about with Nels. All I can remember telling him is what I have on the little video clips that we got. "You try hard to breath baby Nels" "You are such a good boy." and "I love you so much." I guess even with a life time with their children some parents never get to say all the things they would have liked to have said.
I also wrote Nels a birthday card which Chris took to mom to take to baby Nels. I wanted him to know that I wasn't forgetting his big day. I wish I could have done more for him. Chris went to his grave on his lunch break so he could do it during the light. He had birthday lunch with baby Nels. Then after work Chris came to stay with me. They have a special do not disturb sign for patients that I requested so I could have some time alone with Chris. Chris needed to get out some of his feelings and cry a bit. He didn't have the same release of emotions that I had the night before. Then Chris spent the night with me. I think it would have been much harder alone.
I wish that Baby Asher would have been here to brighten our days and make our hearts whole on Nels's day. But he is still cooking... amazing but true. If my body worked normally he would have been here and we could have told him all about how brave his big brother was and how hard he fought for his life.
Nels will always be a treasure to Chris and I. He was the most beautiful thing we ever had the privilege to be a part of. He was our miracle baby boy. He was our first to be born. He hold our hearts tightly. Some day we will get to see him again... hug him and tell him how much we loved him and missed him.
We hope you had a great birthday Baby Nels and that the angels rejoiced with you on your big day.