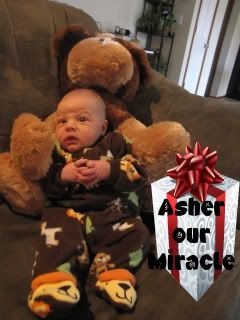 Welcome to the world baby Asher! Happy birthday!
Baby Asher's big day started November 11th at his 35 week day! My pre-eclampsia finally reared it's ugly head again and my BP went up to 158/102. It was up for 3 consecutive readings so all the doctors came into my room and said. So do you want to have your baby today?
I was super excited to meet my little guy so of course I said yes! My contractions had actually begun to work on their own finally... which may have been why my BP was up. I was dilated a little over a 3 and was way more effaced. So my body was kicking into gear. They moved me over to Labor and Delivery in the early afternoon and started me on Magnesium and Pitocin.
I was half thinking that I would have a couple days of labor. Really it only took a few hours. I chose not to have an epidural and was almost regretting that the hour before Asher was born. The previous hours were relatively easy because of having the contractions for a month. Then all of a sudden I felt like I was going to puke. Awful pain followed that. Then painful contractions and desire for drugs! Asher was born face up! He had flipped over just like his brother and had given me back labor... just like his brother. Ouchy! To say the least!
Asher made his way into the world 12:57 am on the 12th. He peed twice as soon as he came out. We were so happy about that because of what happened to baby Nels. I was supposed to have him put on top of me but that did not happen. Instead he was taken to the NICU exam table in my room. He wasn't doing well. His lungs were not mature enough. They let me hold my little baby 1 minute before they took him away. They told me it was for a two hour observation. Later they told me for 24 hours.... then I was told he was checked in to the NICU. My heart broke. I wanted to see and hold my baby. I didn't want to be away from him.
My cousin and my mom held me down on my bed when I got upset and wanted to go see him. No one was taking me to see my baby. I needed to see him. I needed to know what was going on. My husband was in the NICU and my mom and cousin were able to go in with him... but I was not allowed to go see him or hold him. It was an awful time for me. I couldn't handle it. I broke down. Cried, and yelled and unfortunately swore.
Later on that day I finally got to see and hold my baby for a short time. He had a CPAP machine on breathing for him. He was on Oxygen and was on IV's and feeding tubes. It broke my heart to see him like that. I didn't want Asher to ever have to go through anything so hard.
Asher was in the NICU for 11 days. Each day I went to the rounds and talked with the doctors to see what Asher would have to do in order to get out of the NICU. I spent as much time as I could in the NICU with Asher. Which was a good thing. I only left him for 6 hours a night to go sleep in a hotel near by that Chris's parents bought for us.
Asher improved miraculously thanks to the prayers and miracles of God and the hard work of us and the NICU staff. He got off his CPAP in 3 days and he got off his oxygen in 5 days. He got off his IV in and out of his incubator in 8 days. The last big hurdle was his feeding.
He had a feeding tube down his nose for all but 1 of the days he was in the NICU. On his last 48 hours in the NICU he made great strides and took all his bottles. It was a blessing and meant he could come home with us.
He had to pass a hearing test and car seat test before release too... which he did with flying colors!
Asher got to come home with us finally on the Monday before Thanksgiving. The first 3 days it was just Asher and I at home. I pumped and he ate, slept, peed and pooped. Then Thanksgiving came and daddy was home with us. That was a blessing to have someone else helping with diapers and feeding.
It now has been a few days since Thanksgiving. We had a big appointment for him yesterday with the Lactation consultant at the UW medical center. There he ate 64 ml from the breast so he passed the test enough to get a borrowed scale for home so that we can transition him to breast feeding completely and so that I won't have to pump as much. That will be a time saver and a blessing.
We had tried to put him directly into our cloth diapers for him... but they were too big on his premie body. So we have a few disposables to tide us over for a couple weeks. Right now our focus is getting the breast feeding going. Then we will focus more on the cloth diapers again. The first two days he had the cloth diapers on he was very unhappy... but we are praying that it will work out for him soon and that we will be able to transition him to that in a couple more weeks. That will be best for his health.
So that is the story of Asher up to now. Hopefully he will continue to make miraculous strides and will grow happy and healthy!
Lord God, we praise you so much for our precious Asher! We thank you that in all things you are working for good for Asher and that you will lead and guide his steps. Lord we bless your name and praise you for each miracle you have done in Asher's life. Be with us, lead us and guide us as we raise this precious gift for you. In Jesus name, amen!